Concordia University Wisconsin has become a JED Campus!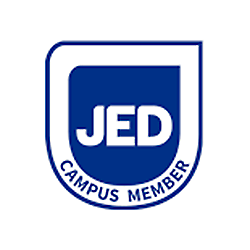 JED Campus is a nationwide initiative of The Jed Foundation (JED) designed to guide schools through a collaborative process of comprehensive systems, program and policy development with customized support to build upon existing student mental health, substance abuse and suicide prevention efforts.
JED Campus schools embark on a strategic partnership with JED that assesses and enhances existing work and helps to create positive, lasting, systemic change in the campus community. As part of the process, each school establishes an interdisciplinary, campus-wide team to assess, support and implement improvements.
Our team
An internal JED Campus team has been created that consists of over 35 students, faculty, administrators, and staff. This "dream team" is thoroughly working through four key areas:
Mental Health Resources & Promotion (Tracy Tuffey, Assistant Professor of Psychology-Chair)
Life Skills (Beckie Kruse, Director of Residence Life-Chair)
Policy Review & Development (Jan Chapman, Director of Academic Resource Center-Chair)
The ultimate goal is the creation and maintenance of a safer, healthier, and better-informed campus community. This vital work will provide Concordia with a framework to support student mental health, as well as assessment tools, feedback reports, a strategic plan, and ongoing support from the JED Campus Team.
The JED approach
The JED comprehensive approach is designed to effect enduring, systemic change across our campus community. It focuses on these 7 areas:
Develop life skills
Promote social connectedness
Identify students at risk
Increase help-seeking behavior
Restrict access to potentially lethal means
Follow crisis management procedure
Provide mental health and substance abuse services
Being one of only six universities in Wisconsin that are JED Campuses, Concordia University definitely understands the importance of student mental health. The Charles E. Kubly Foundation has generously supported this vital initiative. For more information, please contact our JED Campus co-directors: Dr. Beth DeJongh (Associate Professor of Pharmacy) and Dr. Steve Gerner (Dean of Students/Professor of Education).